I have already mentioned that 20 years ago I began organising these wonderful "Club Gourmet" trips to Italy, at that time they were called Sarti wine tours, we then formed a club and every year the Club Gourmet would explore every corner of Italy. Our travellers were people who wanted to see more than just a hotel, swimming pool and sea or mountains, they wanted to see how Italy worked, the hidden Italy!
We buy Parmigiano Reggiano from our delicatessen shelves but do we know how it's made? Pecorino, Mozzarella, Virgin olive oil, Tartufi..
Let's go and meet the people and the cows that give us the wonderful milk that produces the King of Cheese, let's follow the milk into the creamery and watch how the first wheels of Parmigiano start their long life to your table.
Let's go to the Olive groves see and pick the olives, understand the different types that are used to create this absolute culinary necessity, then let's go to the mill and see the golden, green virgin first pressing squeezed from the olive.
Italian salumi are the most famous in the world: Prosciutto di Parma, Coppa, Culatello, Mortadella a huge range of salame and many other cuts of meat that are too many to name .Let's go to Salumificio and watch how many of the above are created by the artist "artigiani" that make these delicacies day in day out.
Of course watching all this will definitely build a great appetite, so we then move on to the best part "the eating" bit.
I generally recommend to my friends that restaurants should be a mix of some wonderful down to earth trattorie, where Mamma e Papa prepare the food which is of course "genuina e autentica" no need for translation here.
Some good ristoranti, where we can have assaggini, typical of the area. Some people want Michelin Stars, well those can also be arranged.
Over the 20 years I have made friends in the restaurant business all over Italia, I also know and can recommend many restaurants in the UK, due to the fact that I owned Sarti for such a long time.
One our favourite trips is eating in the wonderful grounds of Mauro Bregoli near Ferrara, Mauro a top restaurateur himself was the first mentor that Jamie Oliver had and in my opinion the very best. If I can convince Mauro to cook for us, Mauro and his wife Esther create wonderful country dishes, based on his native Ferrara, and we get the pleasure of sampling these under his olive trees. This event can only be organised with a group of 20 people or more..
My friend Dante, owner of La Torretta Hotel also has a beautiful country house in the hills above Montecatini, I Cipressini at Montecatini Alto offer us an opportunity to enjoy wonderful lunches eaten under loggias high above the Firenze valley, we are surrounded by olive trees, plums, cherries, persimmons, figs, pears and vines, so there is hardly a time of year that something cannot be picked from the trees. I believe most of us call this Paradiso!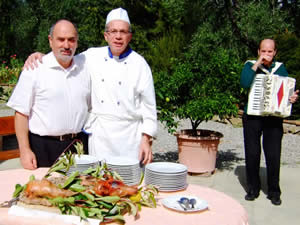 Almost anything can be organised, you just need to get in touch and ask, no obligation, in fact you will probably end up with a lot of free advice.